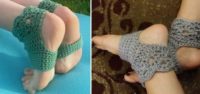 These are one of my most favorite crochet projects that I've ever made. They're beautiful, practical, and fun to make and can be made with so many different textures and colors, and fit a variety of sizes. It's one of those patterns you'll return to often, whether to make a gift for a friend or another pair for yourself or a family member.
The yoga sock is different than a regular sock in that it doesn't have a heel or a toe, which makes it a quick project as well as an easy project since you don't have to have four double-pointed knitting needles that you need to wrangle. This also makes it a good sock to wear when you're exercising (yoga, of course, but also other activities where you need a non-slip surface), as well as when you don't want to wear shoes but don't want to go completely barefoot.
To make your own pair of yoga socks, you'll need some worsted weight yarn (I recommend a bright color that brings a smile to your face), a crochet hook (depending on your shoe size you can use a 5mm, 5.5mm, or 6mm crochet hook), a tapestry needle, scissors, and stitch markers. If you don't have stitch markers, you can use safety pins instead.
If you want to check your gauge you can work up three rows of four half double crochet stitches and measure it – it should be one inch by one inch. Once you've got the gauge right, you'll need to know the following stitches: chain (ch), single crochet (sc), half double crochet (hdc), double crochet (dc), foundation half double crochet (fhdc), and slip stitch (sl st). There are also two special stitches, the shell and spike, but both are explained in the pattern. There's also a note about rounds and beginning chains.
Want to make your own yoga socks? You can find the free pattern at Cre8tion Crochet. Namaste!
1361 total views, 1 today