Like a bunch of grapes, this cluster of dangling beads bounces around under your ears! It's a really easy one to make as well, with just two types of beads – 2mm seed beads and 6mm pearl beads.
The beaded earrings are strung together using .3mm copper wire, and hang from a silver earring hook.
Besides these basic materials, all you need is a pair o scissors to cut the wire. To explain isn't really necessary, except to say that you cut 10 lengths of wire, and string one bead for the end-bead on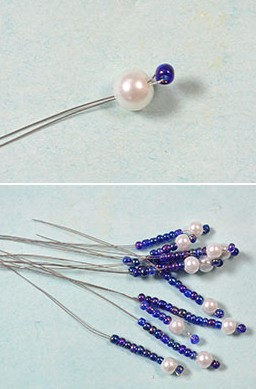 them, then double your wire back. Then you put a pearl bead and 10 seed beads over both wires as well. Then you cut the ends so they're even and twist them together with enough room left to add an earring hook at the top. You can click on the image to make it bigger. And you can visit Elegant Jewelry Beads and Accessories for more information on this Simple Beaded Cluster Earrings tutorial here.