Crochet Puff Stitch Fingerless Gloves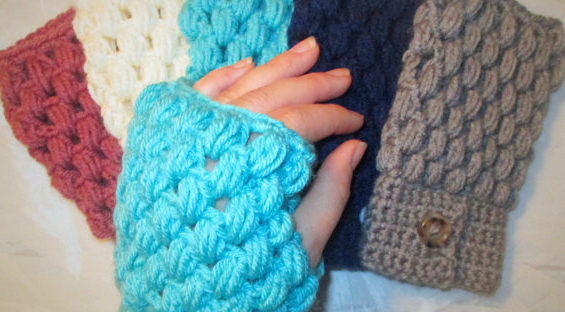 These Pretty Puff Stitch Gloves Will Aid Your Winter Glow-Up
I don't know that there's a more universally appealing crochet stitch than the puff stitch. It looks great on everything from sweaters to hats to bags to gloves to blankets. It's versatile, looks great in solid, ombre, or multi-color yarn, and it's simple enough that most crocheters will be able to pick it up in no time. I remember the first place I saw a puff stitch pattern — it was on Pinterest and I was looking for fingerless gloves. I nearly gasped aloud. The gloves are so pretty with this stitch, and I immediately wanted to know more about what it took to be able to create this stitch.
I've used it in several projects since, and have remained in love with how it looks. I've used it on blankets and bags, mostly, but this new puff stitch pattern for fingerless gloves might get my creative juices revving enough to start on a pair for myself. Of course, these gloves are very popular, and would make excellent presents for friends and family members alike, especially if their favorite color, favorite team colors, or favorite tones were included. You can also dress them up with sequins, beads, or buttons, and use variegated yarn or handspun yarn with color changes.
To make your own pair of fingerless gloves, you'll need to gather the following materials: one skein of yarn (the pattern suggests using something like Rengarenk, but any worsted weight yarn will work), a size "H" (5mm) crochet hook, and a pair of scissors. You'll also need to be comfortable using the following crochet stitches: chain (ch), single crochet (sc), back loop only (blo), slip stitch (sl st), and skip (sk).
The puff stitch is as follows: yarn over (yo), insert crochet hook into stitch, yarn over and draw yarn through stitch, yarn over, and draw the yarn through the remaining loops (there should be two). Basically it looks like you're crocheting two stitches in the same space. It might take a little getting used to, but for the end result, it's deceptively easy.
Once you've mastered the puff stitch with some practice, you'll be crocheting the bands of the fingerless gloves flat. Then you'll join and crochet in the round while making the puffs. This is actually pretty easy and shouldn't scare off any first-timers or early beginners. Take your time, refer back to whatever helpful written instructions or video tutorials you've found, and it will become easier.
The end result is a classic pair of fingerless gloves that you can wear all throughout the fall and winter. You can make several pair, in whatever shades you desire. It is fun to mix it up, so if you want to use some sort of fancy yarn, or embellish the gloves in any way, feel free to do so. The more fun a project is, the more likely you will finish it and want to show it off, which can sometimes result in paid commissions or requests for Christmas presents from friends and family.
If you want to add these fingerless gloves to your accessories, you can find the free pattern at Knitella.