Yub Nub Scoodie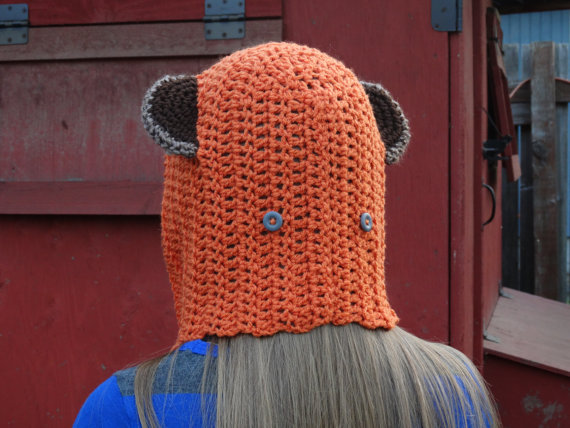 I remember watching the first Star Wars trilogy when I was five years old. I was instantly mesmerized by Han Solo, Princess Leia, Darth Vader, and all the various creatures and aliens that populated the galaxy. In Star Wars: Return of the Jedi, I adored the Ewoks and dreamed of living in the forest with them. They were so cute, and so deadly. Their simple forest life, their use of natural items, and their community appealed to me. I wanted one, or wanted to be one. Unfortunately, I was consigned to being a human, and many years later, I'm still wishing I looked like a teddy bear.
Imagine, then, my delight upon discovering this Yub Nub Scoodie pattern by Kristen Stevenson. It's a delightful project with many applications. I pictured an entire line of fandom scoodies, from Dobby to 101 Dalmatians to Dumbo. All you have to do is adjust the ears. But first, obviously, you need the Yub Nub Scoodie so you can show off your Star Wars love at the premieres of the new films, or while you're hosting a re-watch of the first trilogy.
The pattern is available as a free download on Ravelry, and once again I want to recommend signing up for an account. Not only can you download hundreds of free patterns, you can store them in your "pattern library" on Ravelry, you can see what other people are making, and you can search through the patterns with plenty of specifics. I've been a member for several years now and I'm still discovering patterns I want to try.
The scoodie is worked flat, then seamed up the back. Ears are attached after the main part of the scoodie is complete. For one scoodie, you'll need to collect the following materials: a size "K" crochet hook, 2 skeins of chunky yarn for the main part of the scoodie, and some yarn for the ears (the pattern suggests using a combination of regular chunky yarn and fuzzy yarn to make the ears more realistic), as well as two buttons and a pair of scissors. If you want to leave the buttons out, you'll just need some extra yarn or leather for lacing up the scoodie.
This pattern is great for any level of crocheter, including beginners. There are only three stitches to know, all very simple: chain (ch), single crochet (sc), and double crochet (dc). It would be a great project for a crocheter who has made a few scarves and wants to stretch their crocheting skills.
The Yub Nub Scoodie would make a great gift for any Star Wars fan, and one size fits most. If you're going to make it for a child, you can of course size the scoodie down. You'll probably want to keep checking it as you go, just to make sure that it will be the right size for the recipient. Get measurements beforehand, and if you know your gauge, you can do a simple equation and estimate how many stitches you'll need.
Are you ready to join the Ewok tribe? You can find the free PDF pattern from Kristen Stevenson on Ravelry. Yub Nub!