This is a traditional looking amigurumi doll! Sort of reminds you of old Raggedly Anne dolls, doesn't it? Except these ones are dressed up, and they're free patterns!
The dolls are around 21 – 22 centimeters tall when completed, and as you can see from the photos, there are variations available. For example, some of the crochet dolls have five fingers and some have none, just hands.
The materials list:
Yarn, No. 0 and No. 3 for the body and head
2.5 mm crochet hook and 2 mm crochet hook
Filler
Other yarn of any sort for the hair and other parts
Ribbons, buttons, and other decorations
in this amigurumi doll free pattern by Emma at Knitting Daily, (available here),

Crochet Pig - Free Pattern
One of the best sights on the farm in springtime are the cute little piglets. Their little squeals, their hooves, and of course their tiny ears and noses are absolutely delightful. Of course, when they're older, the cuteness factor tends to wear off for most people. However, we've found a way to always have a cute piglet or two around with this free crochet pig pattern. You can use whatever colors you like, whether you want a traditional pink piglet, one with black spots, or a rainbow variegated piglet. You can also decide what to use for eyes, whether you want safety eyes, buttons, or felt.
To make one of these precious piglets, you'll need to gather up the following materials:
Bulky or Super Bulky yarn (the pattern maker used Knit Picks Wool From The Andes Superwash Bulky)
Size "G" crochet hook (if you're using a different yarn, make sure the yarn and hook are suited for each other)
Stitch markers
Stuffing (this can be anything from regular stuffing found in the craft store, to less common material like feathers or scrap fabric)
A pair of scissors
A tapestry needle
Safety eyes (or buttons, embroidery, felt)
Sewing pins (optional)
You'll also need to be familiar with the following crochet terminology
Chain (ch)
Single crochet (sc)
Double crochet (dc)
Double crochet decrease (dc dec)
Slip stitch (sl st)
Skip (sk)
Finish off (FO)
Repeat (rep)
Decrease (dec)
Place marker (pm)
Though there may be a few stitches that may not be familiar to the novice crocheter, these stitches are simple enough that with a little practice, you will be able to make a litter of piglets should you so desire. These would make excellent presents for the farmers, zookeepers, and pig enthusiasts in your life. Have a country farmhouse that needs a little cuteness? Make a few of these little guys to place around the house.
If you're ready to start creating your own litter of piglets, you can find the free pattern here.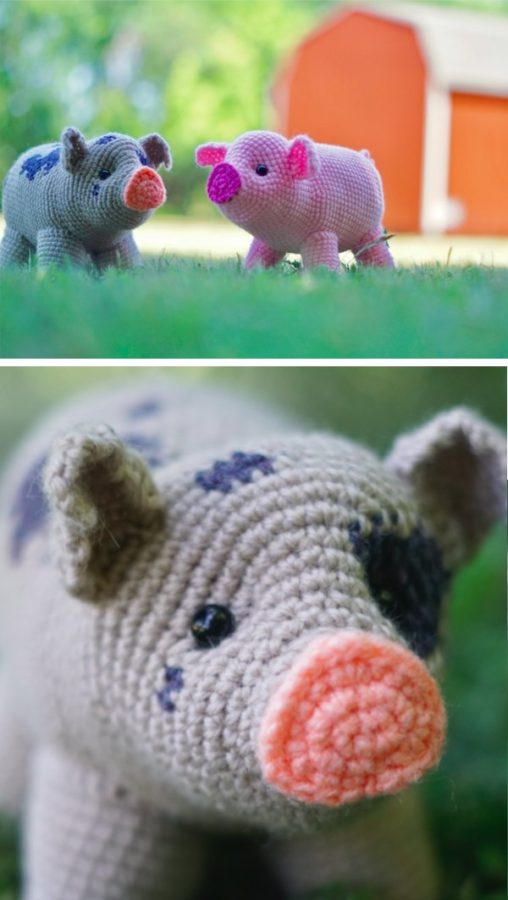 Crochet Sheep - Free Pattern
Looking for a darling little addition to a nursery, baby shower, or special photo op? Look no further, because we found the perfect thing: these darling crochet sheep. One can be a given as a gift, or a trio sporting three different colors can arrive to brighting baby's day. There is a note in the pattern that strongly recommends using Alize cotton yarn to achieve the desired look, but if you're going for more of a rough or natural look, you may want to try something else.
To make one of these sheepish cuties, you'll need to gather the following materials:
Cotton yarn (either Alize cotton or DMC Natura) for the various body parts (nose, ears, arms, legs, tail)
Soft yarn (either YarnArt Dolce or Sirdar Smudge) for the head and body
Crochet hooks in 2.00mm and 3.5mm
Stuffing (this can be whatever is on hand – the official stuff, or creative fillings like strips of t-shirt, or beans, or even potpourri)
A pair of scissors
Felt (for the whites of the eyes, though this is considered optional for the pattern)
Safety eyes, beads, or buttons for the eyes (you could also embroider them if you wish)
Black embroidery floss (for the nose and eyebrows, though of course while the nose is necessary, the eyebrows are not)
A darning needle
You'll also need to be familiar with the following crochet terminology:
Chain (ch)
Single crochet (sc)
Increase (inc)
Decrease (sometimes notated as dc2tog)
You'll stuff the various body parts as you go, and then once you're done with the crochet parts, you'll need to embroider the nose and eyebrows and attach the eyes. You can then adorn the sheep with a ribbon, a piece of jewelry, such as a brooch, or make little felt accessories for it, such as a vest and shoes.
Need a herd of little fluffies for your play room? Know someone who would love to adopt one of these? You can find the materials list, pattern, and photos here. You may also want to follow the site's creator on social media or keep an eye on the website for future patterns.