Free Easy Crochet Shrug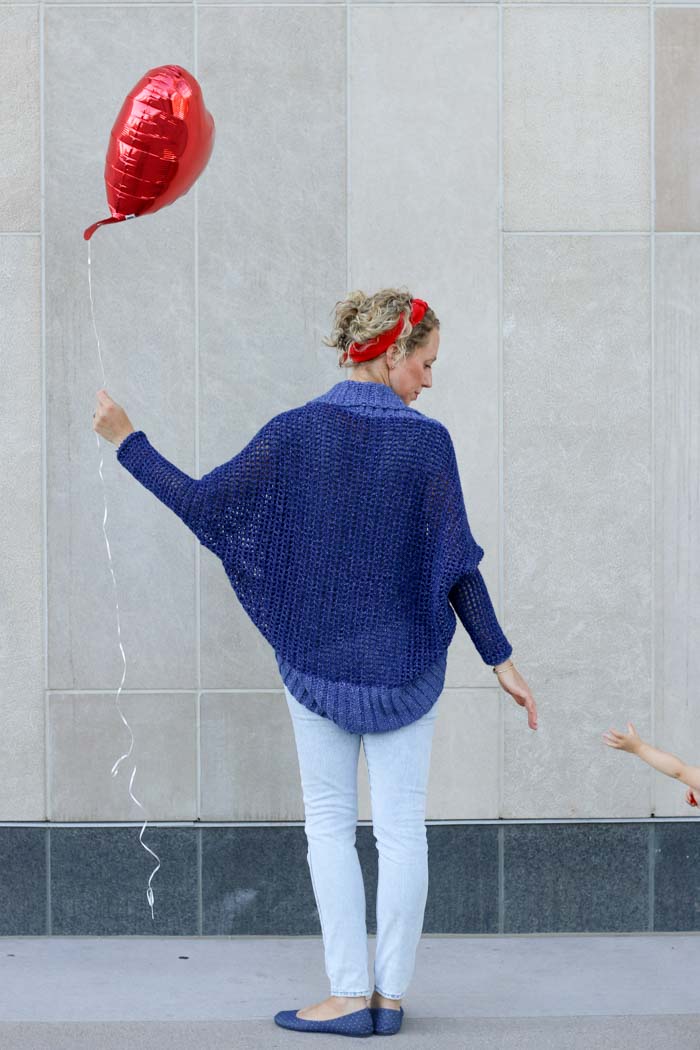 Making your own clothing can be intimidating. I remember spending several hours sewing, knitting, and crocheting only to be extremely frustrated that my skills didn't match my ambitions. I tried to make dresses, skirts, and pajamas for myself and realized I needed to dial it back and stick with hats, scarves, and socks. However, I've never given up hope that one day I'll be able to make my own sweater, and with this free pattern from the Make & Do Crew, I just might be able to pull it off. Or shrug it on.
While the Make & Do Crew recommend the Lionbrand "Jeans" yarn, you can use any medium weight yarn for this sweater shrug. You'll need 5-7 skeins (depending on sizing), and if you want you can switch up the colors for an ombre effect, choose two colors for contrast, or make the whole thing in one color. The other materials you'll want to gather for the project are a size "I" crochet hook, stitch markers, a tapestry needle, and scissors.
If you're still concerned about being a beginner and starting what looks like an ambitious project, let me put your mind at ease. There are no complicated stitch patterns to learn. All the terminology you need to know are chain (ch), single crochet (sc), double crochet (dc), double crochet in back loop only (dc in blo), skip (sk), space (sp), chain 1 space (ch 1 sp), right side (RS), wrong side (WS), turning chain (tch), repeat (rep), main color (mc), and accent color (ac). With only four stitches to know (all of which are common in beginner patterns) and self-explanatory terminology, this project practically makes itself.
You will want to check the gauge, however, since you'll be wearing this shrug once it's completed. For eight rows of double crochet, it should measure four inches. It's also a good idea to check as you go that it will fit the way you want it to. Alterations can always be made as you progress, but rarely once the project is complete.
If you are making this for someone else (a friend, a sibling, a parent, etc.), you might need to take their measurements beforehand to ensure the perfect fit. The nice thing about this shrug is that it can be made to fit anybody. The original sizes are S/M and L/XL, but there are notes in the pattern that allow for customization, including the width and length of the shrug.
There is some sewing, as the shrug is joined by seaming the body and sleeves together. If you are not familiar with the stitch used in this project (the mattress stitch), there is a link provided that will show you how to complete this part of the pattern. Take it slow, practice a little beforehand if you're unfamiliar with this technique, and don't worry about it too much, as it isn't the showy part of the shrug.
If you decide that you enjoy making sweaters, there are several other free patterns available from the Make & Do Crew as well, including the The Dwell Sweater, the Navajo Shrug, and the Campfire Cardigan, all of which have links on the free pattern page. You can find the original free Lightweight + Easy Crochet Shrug Pattern on the Make & Do Crew's site.