Crochet Wallets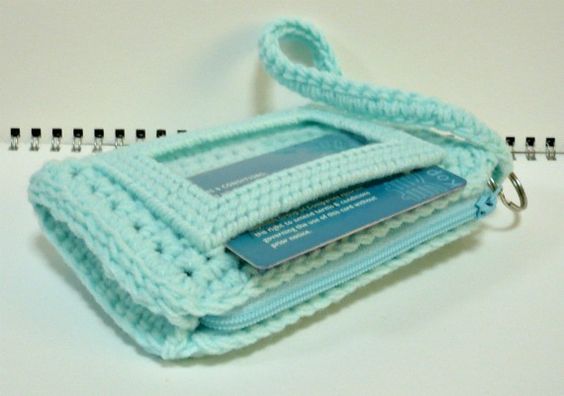 I've been looking for a new wallet for months. My old wallet is a particular favorite, picked up at Target because it was a small, blue pleather item with a black French Bulldog on it with red glasses and a bowtie. After a few years, however, the pleather is wearing off and the design is becoming difficult to make out. I've scoured thrift shops, stores, and websites for another wallet that could fill the space of my old one. I even considered making a duct tape wallet so I could make it the perfect size.
However, none of these particular options suited me. I think it's time to go back to my crafting skills and make my own wallet. To that end, I went looking through various websites and Pinterest boards attempting to find just the right wallet, one I could carry around in a small bag or stick in a pocket. There's a few places that are better than others for this sort of thing – Flickr searches give lots of inspiration but not much in the way of directions or patterns.
Pinterest links sometimes work and sometimes lead you off on a wild goose chase, and Ravelry can be a little overwhelming with its search options. Luckily, however, the two patterns I'm sharing here are from independent crocheters who've put up free patterns on their sites, so you can benefit by not having to search for hours and hours for a wallet – you can simply find some yarn, scissors, and a tapestry needle and get to work.
The first pattern is from Suzie's Yarnie Stuff. It's a simple card-and-cash wallet with a snap to prevent it from opening and spilling all your items. It uses worsted weight yarn and a 4.5mm crochet hook, as well as a needle and thread, and a snap. It wasn't what I was looking for, but it's a nice, simple wallet for a crochet beginner, or for someone who prefers a standard wallet similar to a photo wallet.
The Crochet & Fabric Wallet from Sugarbeans was the pattern I was looking for – it uses one of my favorite stitches, the puff stitch, and you can pair it with any cotton fabric. The possibilities are endless! I'm already thinking of making one specifically for fall, my favorite season, and one for everyday use.
All you need to do for the Crochet & Fabric Wallet is make a rectangle in the size you want, and then use cotton fabric and interfacing as the inside (you'll need to handsew the fabric inside the rectangle). You can add a loop and a button to secure the wallet and voila, you have a totally adorable wallet that your friends will drool over. These also make great gifts for said friends, as well as family members, whether for birthdays, special occasions, or the holidays. Spruce up your wallet with a keychain, a brooch, a tassel, or charms.
If these patterns have piqued your interest, you can find photo inspiration over on Flickr and the gallery below, or head to Suzie's Yarnie Stuff for the simple wallet pattern. You can find the Crochet & Fabric Wallet tutorial at Sugarbean's website.