Recently my boys school was robbed of some substantial PAC funds. It was quite devastating for the community, as the funds were for the needed playground equipment. Several fundraisers have been launched and succeeded and slowly the funds are starting to be replenished. My husband wanted to do a fundraiser at his work, the community Postal Station.
The only thing is we couldn't figure out a fundraiser premise. This gave me an idea, why not a crocheted good's fundraiser? I may not be able to bake or run to raise funds. However, I can crochet something and maybe people will buy them.
So, I know I am going to crochet something but, what? In the past I have crocheted hats, scarves, beanies for preemies and donated them directly to the people who would use the items. This would have to be something people would want to donate money towards. Then the save grace of them all came to mind, the Coffee Cup Cozy. Versatile, easy, trendy and a great gift.
With the basic pattern (see bottom of article) you can create a gift, a fundraising item or something for personal use. I used a heart applique in the first picture below to make a pocket to hold tea or sugar packets. You could use any small applique to make the pocket. You could simply use a monogram initial or a support ribbon for your favorite Foundation.
By adding a simple heart applique, this gives this little cozy a pocket for tea or sugar packets. I added Safety teddy bear eyes (at your local craft store), a set of Ears and a trunk to make a whimsical elephant.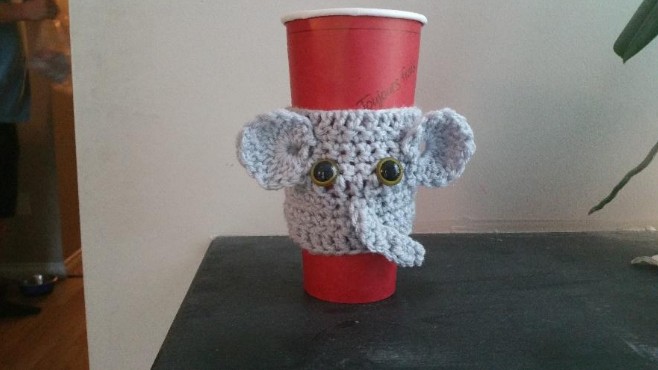 The sky is really the limit. This is just two examples of what you could potentially with this basic Coffee cup cozy pattern. Whether you are looking for a quick weekend project, a fundraiser project or a gift you should give the Coffee cup cozy a try.
PATTERN:
Using 6mm hook and any yarn. You will also need a sewing needle to connect the two ends.
Chain 28
Row 1: Chain 2 (counts as single crochet); single crochet in 3 rd chain from hook, and each chain across (27 single crochet)
Row 2: Chain 3 (counts as double crochet); double crochet in 4 th chain from hook, and each sc across (27 double crochet)
Row 3: Repeat Row 1
Row4: Repeat Row 2
Row 5: Repeat Row 1
Row 6: Repeat Row 2
Row 7: Repeat Row 1
Row 8: Repeat Row 2
Row 9 : Repeat Row one and tie off, leaving enough to attach the two ends by sewing with plastic yarn needle.
By Virginia McDougall