Crochet Budgie Pattern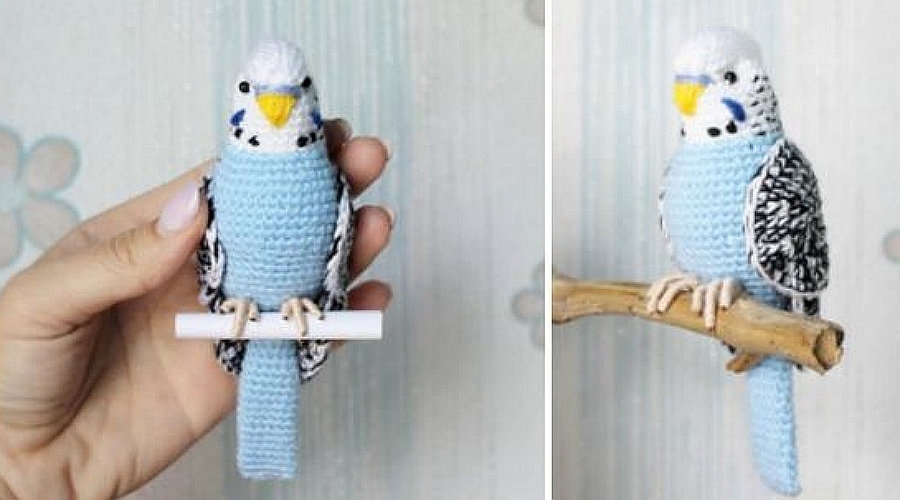 Love birds but don't want a dozen chirping, seed-scattering, newspaper shredding pets in the house? You're in luck – we found a pattern for those bird lovers who prefer to keep things simple (and quiet). You can crochet these to your hearts' content and they won't ever wake you up at 5AM screeching, nor will they learn any words you'd rather visitors not hear repeated. These little cuties are the size of your palm and can be made into keychains, pocket pets, or as adornments for other art projects.
You can make your own tiny friend(s) with the following materials:
Yarn (the pattern recommends using wool in various colors for the beak, body, head, and tail)
A size 1.75mm crochet hook
Polyfiber stuffing (You can also use pellets)
Safety eyes (You could also embroider the eyes, use buttons, or make your own out of clay)
Scissors
Tapestry needle
If you want to make these into keychains, make sure you have a key ring to add in while you crochet. You could also add ribbon to make them into ornaments for various holiday and hangings, or you can add wire and pose them around the house.
You'll need to know the following stitches as well:
Magic Ring
Slip Stitch (sl st)
Single Crochet (sc)
Double Crochet (dc)
Half Double Crochet (hdc)
Increase (inc)
Decrease (dec)
The instructions are originally in Spanish, though Google Translate does an adequate job of converting the pattern into English. Of course, if you prefer following along with someone, there is a video embedded into the tutorial that will take you to YouTube so that you can see someone crocheting the birds. If you're a visual or kinesthetic learner, I'd highly recommend watching the video before beginning your project and then watching it again as you crochet and pausing if you run into any trouble spots.
Interested in creating your own little aviary? You can find the written instructions here, or you can go straight to the video here. There is also a crochet budgie pattern for $5 here.