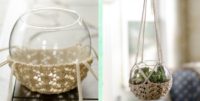 If you weren't aware that the 1970's had returned, let me assure you they have returned in a big way – from colors to fashion to crafts, the 70's are back with a splash. If you're a fan of that fantastic decade, you might want to think about how to add a little 70's flair to your home. If you're a knitter, you're probably familiar with the macrame plant holder that was so popular back in the day. And if you don't know how to macrame, you're in luck – you can knit your own plant cozy, thanks to Pam Powers Knits.
If you've ever hankered after having your own succulents, this is the perfect beginning. You'll be able to show off your green thumb and your knitting skills with the knitted terrarium. To complete the project, you'll need to know how to knit, purl, and combine these with such stitches as yarn over (yo), slip-slip-knit (ssk), and knit two or more stitches together (k2tog). You'll also be knitting in the round. Most of these are common sense stitches and can be followed without having to look up picture or video tutorials. Of course, if you do want a reminder of how all these stitches work, there are plenty of online resources with which to brush up before you begin.
The materials for the knitted terrarium include size 8 double-pointed knitting needles, a tapestry needle stitch markers, and clips, along with the glass bowl, rocks, plants, and a ring to hang it by. The type of yarn is up to you, but Pam Powers recommends using natural cooking twine, as it is inexpensive, easy to use, and holds up well for projects of this sort. You might also want to try rope, nylon cord, or hemp, but be aware of gauge and size and be sure to use a corresponding needle.
The pattern is a professional quality PDF with plenty of pictures to illustrate the step-by-step process of knitting the terrarium, along with attaching the ring and placing the materials inside. The written instructions are clear and concise, allowing for easy reading and a quick work-up. Once you've made the first one you might have to make a few more for friends and family who also appreciate a throwback or growing green things. These would make great gifts for teachers, office co-workers, and the boho hippies in your life. The terrariums would look great on a patio, in a kitchen, or bathroom, or even a front porch or back deck. If you want to brighten things up even more, you could always find some colorful cooking twine or other strong fiber to use, in a sunshine yellow or sky blue. Whatever you do with these cute little guys, they'll be sure to bring a smile to your face.
If this knitted terrarium looks like something you'd be interested in, you can find the free PDF pattern on Pam Powers Knits – you might also want to check out her other offerings, including a store, tutorials, patterns, and links to her Ravelry and Pinterest accounts. You can also sign up for e-mail news and updates to ensure you never miss another free pattern.
1998 total views, 0 today