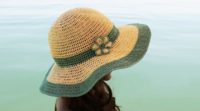 When it's hot and sunny outside and you want to soak up some sun without worrying about getting wrinkles on your face, you grab a big, floppy hat. If you don't yet have a floppy hat, never fear – you can make yourself one with this free crochet summer hat tutorial. Whether you prefer to watch a video tutorial on YouTube or read up on the written instructions, InterUnet has you covered.
While the project may look a bit intimidating, this summer hat pattern is easy, and while it does require shaping, the effect is easy to recreate using a fabric stiffener. The rest of the materials you will need are yarn (the pattern suggests using Aunt Lydia's crochet thread, Fashion 3, weight 1, super fine, and you'll need about 2 1/2 skeins, whether you decide to use one color, two, or more), and a crochet hook (the pattern suggests using a 2.75mm, but it will depend on whether you use the yarn suggested or decide to try something more hardy).
If you care about gauge, the pattern gives the following guide: 21 double crochet stitches should equal about 4 inches, or 10 centimeters. Of course, you may want to do a little extra math and measure your head and then try out your own gauge. If you decide to go with a different fiber for the floppy hat, you could try using bamboo, cord, or even plastic. When going your own route, however, you will want to keep checking the fit and stiffness of the hat as you go to ensure that it will work for you.
The stitches used in the pattern include a foundation chain, slip stitch (sl st), single crochet (sc), double crochet (dc), increase (inc), and chain (ch). All of these should be familiar to crocheters whether they're beginners or more advanced, but if you feel the need to brush up on your stitch repertoire, there are plenty of places to do so online.
The hat begins with an increase in each round and is only 32 rounds total, making this a project that will work up quickly – you can also decrease the time spent on the hat if you use thicker yarn and a larger crochet hook. To that end you can simply use one color of yarn and forego the embellishments, such as the flower (If you do want some type of addition you can always use buttons, ribbon, lace, or fake flowers to adorn your summer hat).
If this looks like the hat for you, you can choose how you want to access the pattern, whether you prefer a chart, written instructions, or a video tutorial. All of them are available through the Interunet site. Also, if you find yourself stuck on a part of the pattern, you can comment on the page and the author will answer (there are already a few such question-and-answer entries in the comment section so be sure to read those before posting your own question). If you like Interunet, you can visit their website for other patterns – there's an "Explore" button and a search engine specific to the site that will allow you to look for other patterns.
1578 total views, 4 today