When you throw a baby shower, wedding shower, or even just have a party with the girls, it's always fun to do something that everyone will remember and even talk about, right?
This is something very, very simple, yet effective. All you need is towels, which I'm pretty sure everyone already has around the house, as well as something to tie them up with, which could be twine, ribbons, string, or anything else. You can just follow the directions in the picture. Also, if anyone knows where this picture originally came from, please let us know. It seems to be in 1000 places on the internet.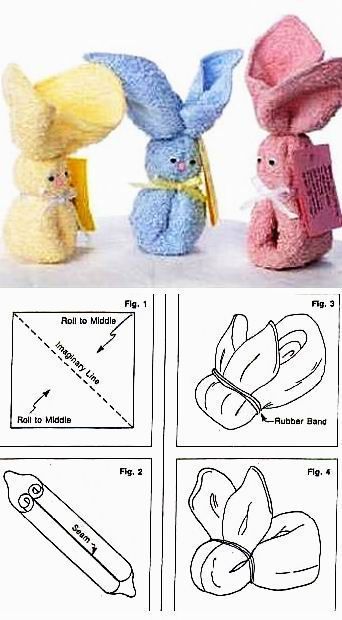 Easy Suncatchers - Make them at home
Remember those lazy days of summer when you were a kid, when there was enough time to play ball with your friends, ride your bike, and do crafts with your siblings? If you're feeling nostalgic about those warm days, you may want to delve back into your childhood with a simple activity you can pass on to your own kids – you can make an easy suncatcher with just a few items – a lid (from a container for sour cream or yogurt), glue, glass stones (any and every color – these can usually be found in the floral department of grocery stores or at art stores), and something to hang the suncatcher with – ribbon or wire should suffice, depending on how heavy the suncatcher is – you could also place it on a window ledge if it's too heavy to be hung.
First thing you'll want to do is find a suitable lid – whether you want a small, medium, or large suncatcher, you'll need a lid that can contain all the stones and glue. Of course, you can also make several suncatchers of varying sizes at the same time, if you so choose. Once you've got a clean lid, you can fill it with glue. Don't let the glue sit – you can immediately begin placing the stones in any pattern you like, as long as they touch at some point (this has the likelihood of allowing the glue to dry faster). Next comes the most difficult part – the waiting. You'll need to let the glue dry at least a few days, and some suncatchers, depending on size and pattern, will take up to four or five days. Once the glue starts to peel away from the lid, you'll know it's ready. Then you can figure out where you want to display it, or if you want to gift it – this would make a beautiful present for family members, teachers, and friends.
Interested in putting together your own collection of suncatchers? You can find the list of materials, along with how-to photos and written instructions on The Jersey Momma website. 

Make Homemade Playdough - In Under 10 Minutes
Ever been overwhelmed at the thought of having the kids or grandkids at home with nothing to do? Never fear, we've got the perfect activity for a low-cost, high enjoyment afternoon – homemade playdough. What we love about this recipe is that you can add essential oils to the mix (popular choices are lavender and bright citrus scents), or vanilla, or even powders like cinnamon to make this a sensory play activity at its best.
The recipe we found includes the following:
2 tsp Cream of Tartar
1 cup of flour
1 tube of food coloring
1/3 cup of salt
1 Tbsp. vegetable oil
There are plenty of other recipes, but this one seemed simple, inexpensive, and, as mentioned above, easy to adapt. This also makes three containers full, so you may want to experiment with more than one tube of food coloring. You can keep the tubes separate, or mix a little of each together and see what new colors you get. You could also try mixing scents, or using themes, like red playdough with a cinnamon scent, or a yellow playdough with a lemon scent. Get creative and think outside the box – each recipe only takes ten minutes to make, so you've got plenty of time to experiment.
All of the ingredients on the recipe list can be found in a grocery store, even the Cream of Tartar, which is most often found in the baking aisle. You can also keep the dry ingredients together with instructions for the wet ingredients so that each batch is put together even more quickly, a perfect thing to have on hand for emergency babysitting situations, late night talks after nightmares, or even as part of a play therapy tool box for art and play therapists. This playdough also makes a perfect party favor, stocking stuffer, or prize for birthdays, Christmas, and school events.
This playdough lasts longer than the store bought kind, it doesn't crumble, and it's non-toxic.
Sound like something you, your kids, or your friends would like? You can find the instructions at Living Well Mom, along with a photo tutorial and ingredients list.