When you throw a baby shower, wedding shower, or even just have a party with the girls, it's always fun to do something that everyone will remember and even talk about, right?
This is something very, very simple, yet effective. All you need is towels, which I'm pretty sure everyone already has around the house, as well as something to tie them up with, which could be twine, ribbons, string, or anything else. You can just follow the directions in the picture. Also, if anyone knows where this picture originally came from, please let us know. It seems to be in 1000 places on the internet.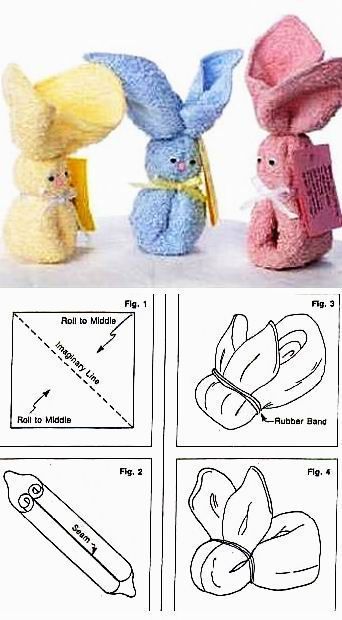 How to Make Bouncy Balls... You Can DIY These
Do you remember the first time you got a bouncy ball? Whether it was a small one that you played with in your room with a bunch of jacks, or a large beach ball, we all have our stories about the bouncy balls we used to play with as kids. Now that we're older, of course, and some of us have kids or nieces and nephews or friends' kids in our lives, we have the opportunity to introduce a new generation to one of the best, simplest toys ever invented.
We could buy them, obviously, and choose from a small array of plain bouncy balls, but what about making your own, or having the kids help you make an entire pail full of bouncy balls? They're easier to make than you might think, with simple ingredients often found at home, or that can be purchased from the local grocery store. Making a bouncy ball requires the following materials:
Borax
Cornstarch
White glue or blue/clear glue (Elmer's is recommended)
Warm water (make sure the water is warmer than room temperature but not hot to the touch)
Food coloring (if you'd like to experiment with different color variations. You can also add glitter if you like)
Measuring spoons
Spoon or craft stick (this is for stirring, so a popsicle stick is probably the best option here)
2 small plastic containers or cups
Sharpie
Ruler (the recipe specifies a metric ruler)
ZipLoc plastic baggie
The two small containers will contain the mixtures that are then combined to make the bouncy ball. The ingredients are safe enough for older children but it is best to have some adult supervision, or at least an adult nearby who can step in should the child have trouble mixing the solutions together. There is, technically, no size limit, so as long as you adjust the ingredients, you can make large bouncy balls, or even go for a size that can't be found in stores.
If you're dreaming of making your own bouncy ball collection, you can find the basic tutorial here. For an interesting twist, you can try the science experiment tutorial we found here.
Bar Soap - Make your Own
Have you ever been in the store and gone through the soap section and wondered why they didn't make bars with your favorite scent or color? Well, now you can make your own soap in whatever color and scent you choose! We found a few tutorials that will appeal to every soap fanatic and artist, whether you're craving a crystal inspired, jasmine scented bar or a rainbow, citrus-inspired bar, you can put together your favorite scents and colors for a bevy of beautiful soaps.
These would also make excellent gifts, as well as a nice treat in a guest bathroom or for a weekend getaway. Soaking in the tub or hopping in a steamy shower and scrubbing with one of these soaps will guarantee a relaxed state of mind. You could also display, sell, and use these at a spa, craft fair, or online. However you choose to use these, once you get started, you may not want to stop. Soap making is relatively easy and provides you with something pretty and practical as an end result. What's not to love?
The written tutorials we found have noted that clear soap making tends to involve spray bottles, while the colored soaps often use layers to achieve their look. Be sure and read all instructions before beginning so that you can achieve your desired result. Most tutorials require the following materials for soap-making:
Clear and/or white melt and pour soap
Non-bleeding colorants
A rectangular, square, oval, or circle mold (often made of silicone)
Fragrant oil (you can use essential oils if you like)
Spray bottle filled with rubbing alcohol
Microwave-safe bowl
Spoon
Knife
You may already have most of these materials, and if you need the soap, colorants, and mold, they can most often be found in a craft store, or can be purchased online.
Once you've gathered these items, choose a tutorial – you could try this DIY Gradient Soap Bar, or this 10 Minute DIY Milk & Honey Soap. You can also gather inspiration for your own creations by checking out Aromatica Labo or this account on Instagram.