Amigurumi is everywhere now, but this particular amigurumi critter caught our attention for its cuteness, as well as its ease of making.
What's involved:
Materials-wise, you will need:
Yarn (Worsted Weight) in two colors at least
Hook (G6/4.00mm)
Plastic Saftey Bead Eyes (6mm+)
Stuffing
Needle
And you'll be using the following stitches:
– Ch : Chain stitch
– St : Stitch
– Sl.st : Slip Stitch
– Sc : Single Crochet
– Dec/Inc : Decrease/Increase
– InvDec : Invisible Decrease
– BLO : Back Loops Only
– FLO : Front Loops Only
– M.p : Mini Picot (Ch 2, working in the BLO of the 2nd ch from the hook, sl.st 1)
– Bo : Bobble Stitch
Overall process conception:
You start with the tip of the crochet creature's nose, and work backwards – at first it's a lot like making a hackey-sack. Then at the neck area, you branch off and make that crown, at which point you use your second color for the nose and horns. Then you go back to the body and work back to the tail, and add your stuffing before closing it up. The full pattern is available free from Club Crochet.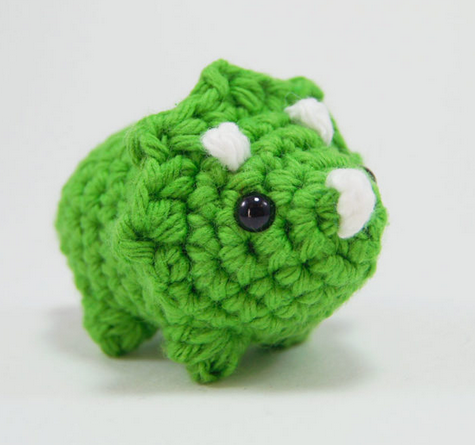 Slushee Drawstring Bag (Free Pattern)
What is it about food-themed clothing and accessories that we love so much? Whether we're sporting a doughnut sweatshirt, cupcake earrings, or sprinkles on our shoes, we love celebrating food. Maybe it's because food is one of the things that makes nearly everyone happy, maybe the bright colors make us feel good, or perhaps it's the hope that someone will see and comment on our foodie attire and connect for a moment. If you're one of the people that can't get enough of wearable food, then you may want to consider making (or purchasing) this Slushee Drawstring Bag from Twinkie Chan, the girl best known for her playfully designed food scarves. She has graciously provided the pattern for this Slushee bag free of charge, though if the thought of constructing this darling drawstring is too intimidating, you can of course purchase one made by Twinkie Chan instead. This is a great project for someone who has a lot of colored yarn and not enough projects to use them all up.
If you want to make your own Slushee Drawstring, you'll need to collect the following: a size "I" crochet hook (5.5mm), blue, cherry, aqua, and white yarn (the pattern recommends using Loops & Threads Impeccable Brights Popsicle Blue, and Loops & Threads Impeccable Cherry, Aqua, and White, though if you want to use cotton for easier washing, you could use something like Sugar 'n Cream, though you might need to test out the gauge and adjust the crochet hook size accordingly), scissors, a tapestry needle, a plastic takeout container (the ones for soup work best), and whatever materials you want to spell out "Cool" or "Frosty" or "Freeze" on the side. You can purchase a "Cool" patch from Twinkie Chan if you want to get as close to the original look as possible.
The bag might seem a little complicated, but the most difficult part will be switching out the colors. Twinkie Chan has an excellent tutorial on the subject, along with a list of crochet stitches you'll need to be comfortable with before you begin, which include single crochet (sc), half double crochet (hdc), single crochet two together (sc2tog), and skip. They're all relatively easy, even if you're a beginner. If you begin to get confused, watch a few videos on YouTube about the specific stitches and you'll figure it out in no time.
The pattern begins with the bottom of the Slushee cup, trading out blue and red every so often. Once the cup is finished, you'll crochet the Slushee part separately, and then join them together with the white yarn. After affixing your patch or felt onto the cup and pulling the drawstring tight, you'll be ready to show it off on the next beach trip, backyard BBQ, or day trip excursion. Of course, if you want to go all out, you can slip a red straw into the yarn to complete the look.
Sound like something you'd enjoy making? You can find the free pattern on Twinkie Chan.
You'll Deerly Love This Modern Crochet Afghan
If you've been perusing the articles on The Craft Chair for a while, you're aware of how much I love the tutorials and patterns available on the Make & Do Crew website. They're interesting projects, free patterns, and I think they use crochet in a modern, unique way while still making projects accessible to everyone, from beginners to advanced.
I especially love this "Be A Deer" afghan because it's a smaller size, so you don't have to feel overwhelmed with a bedspread afghan, and it's a pattern that can be used for everyone — babies, kids, even adults. Hunters will love this in earth tones, babies will appreciate it in pastels, and if you've got a room that needs a little pizzazz, go all out with the color choices, whether it's rainbow or ombre.
Of course, if you don't want adds and do want the instructions for the larger blanket, you can purchase the ad-free PDF of the pattern for $2.50. It comes with two graphs and written instructions, as well as some photos. And if you just want to make a small afghan, the pattern is available for free on their website.
The baby blanket measures 38.5″ by 42.5″, and requires the following materials: 12 balls of yarn (the instructions break it down by color in case you are using multiples, and it recommends using Vanna's Choice), a size H crochet hook, a tapestry needle, and a pair of scissors. If you want to check your gauge prior to beginning, crochet four and a half "tiles" and it should measure four inches.
Besides the corner to corner crochet stitch (there's a tutorial link included on the pattern page), all you need to know stitch-wise are: single crochet (sc), double crochet (dc), skip (sk), chain (ch), slip stitch (sl st), and right side (RS). If you're comfortable with all those but haven't tried corner to corner crochet, I do recommend finding a YouTube video if written instructions aren't as clear.
A note on the crochet "tiles": this crochet tile contains 3 chains (ch) and 3 double crochet stitches (dc). When you consult the graph for the afghan, each square counts as one "tile". It is noted in the pattern that it's easier to keep track if you cross off each square as you go, starting in the lower left corner. That way you don't miss stitches and your deer won't be abnormally shaped. The border stitches, of course, will be looser so the blanket doesn't stretch or pull.
The end result is a hip, modern afghan that will please a wide range of individuals (if you're so inclined to give it away), and will allow you to stretch your crochet stitch knowledge. If you like corner to corner crochet, there are more free patterns for afghans available online — check Ravelry or Pinterest.
Does this sound like your new weekend project? You can find the free graph for the small afghan, along with the ad-free row by row instructions and the larger graph in an inexpensive PDF on the Make & Do Crew website. There are also links to tutorials on corner to corner crochet, as well as switching between colors. Scroll through the rest of their projects for more modern crochet inspiration.