Volkswagon 3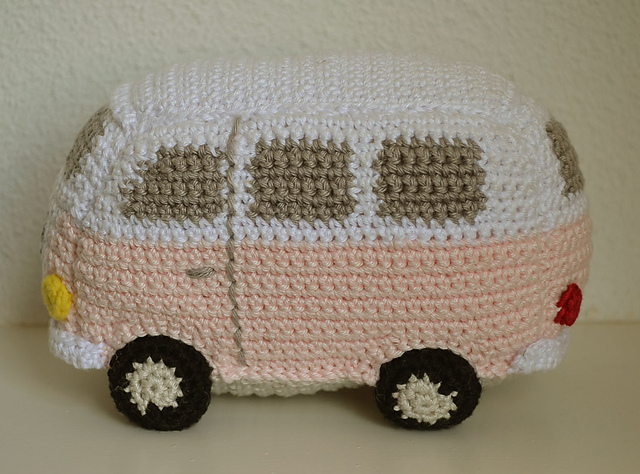 Take A Trip Down Memory Lane In This Tiny Volkswagen
My parents were born in the 1960's. Unfortunately, neither of them were exposed too much to the cultural shifts at the time because of strict parents, church, and a private school. I'm sad I don't get to hear stories about their hippie lifestyle or their Volkswagen, but that hasn't stopped me from dreaming about the '60's and wishing I had my own Volkswagen. I have a friend whose lifelong dream as been to own one and go on road trips with her family, and although I can't buy her a life-size Volkswagen, I've been thinking about making her one of these adorable crocheted Volkswagens.
The free crochet pattern comes from Ravelry user "Epsiej", available as a free PDF download (in English and Dutch). It can also be added to your pattern library if you are already a Ravelry user. If you aren't one yet, I highly recommend it. There are thousands of patterns for every kind of project imaginable, and I've found a lot of high quality free patterns on there. It's my go to for when I want to browse and get a feel of what I want to make next, and seeing the progress I've made and how many patterns I've used is encouraging. You can also follow other members to see what they're up to and when they release new patterns.
I don't know that the Volkswagen can be labeled "amigurumi" but it does have some similarities in that it is both crocheted and sewn, the pieces have to be assembled, and you stuff it with fiber fill or whatever your preference is for stuffing. That being said, this is one of the easiest projects I've seen of this type, partially because of the shape of the Volkswagen. You can also decide to leave off some details or use buttons and shorten the construction process that way. This pattern is a great introduction to amigurumi if you are a beginner, and it is accessible to any level of crocheter.
To make your own tiny Volkswagen, you'll need the following: a 2.5mm crochet hook, yarn (you'll need to pick a few different colors, and a yarn that will crochet up well with a 2.5mm crochet hook), a tapestry needle, scissors, and fiber fill (you can also use old scraps of fabric, part of an old pillow, or batting). The only stitches you'll need to know are single crochet (sc), slip stitch (sl st), decrease (dec), and chain (ch). Once you've gathered all the required materials and looked over the written instructions, you can begin.
There is a little embroidery, and some small pieces to sew on once the main body of the Volkswagen is complete. However, it shouldn't take that long, and you don't have to worry about "mirroring" the sides of the Volkswagen. This would make a perfect gift for an old hippie, a young hipster, and everyone who loves road trips. The van would look cute in a nursery or pretty cool on a shelf in a home office.
If you want to add this to your car collection, you can find the free PDF pattern by Espiej on Ravelry.