Crochet Scalloped Boot Cuffs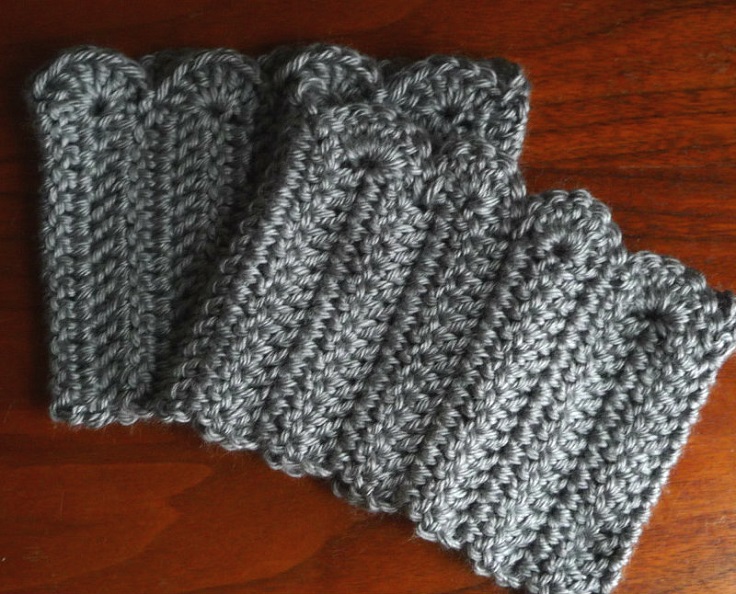 Boot Out Boring With These Cute Cuffs
Where I live, boots aren't just fashionable. They're also practical, especially when taking part in activities like hiking, horseback riding, and farming or gardening. Not all of these boots are pretty. Some are mostly practical in nature. But if you want to look cute no matter what boots you're wearing, dress them up with some scalloped boot cuffs. They're small enough that they don't take long to make, and you can bust some of your yarn stash by using remnants.
I've seen a lot of boot cuffs in my day, and I remember getting my first pair. They were store bought, with little bits of lace and buttons. I appreciated them and wore them often, but I wished they had been thicker and less decorative. I searched through the internet for free crochet boot cuff patterns and found a wealth of projects. However, if you're like me and have a specific idea in mind, searching can become quite tedious. Therefore I've chosen a simple, scalloped boot cuff that anyone (beginner to advanced) can make.
This pattern for Scalloped Boot Cuffs comes from Jenny Dickens, who has provided the pattern as a free PDF download on Ravelry. If you like this pattern, you can check out her other patterns, as well as projects she has completed. I like this feature of Ravelry because you can go down a rabbit hole and come back with an entire library of patterns! They're also all marked so you know which ones are easy and which ones are more difficult and might be better suited to a more advanced crocheter.
Jenny Dickens' "Autumn Berry Crochet" pattern for scalloped boot cuffs is great because you can add on and embellish it with whatever you want, such as ribbon, buttons, or lace, and you can make them smaller or larger very easily, just adding or subtracting a few rows. They're stretchy enough to fit over your pant legs, and tight enough that they won't get loose and fall down into your boots.
The crochet stitches you'll need to be familiar with in order to complete this project are single crochet (sc), double crochet (dc), back loop only (blo or bk lp), chain (ch), and chain space (ch sp). If you're not familiar with the back loop only, do go ahead and look up a video tutorial on YouTube, as it can be a bit confusing the first couple of times. However, it's a common enough stitch that it's worth learning so you can take on bigger projects.
To make yourself or a friend a pair of these boot cuffs, you'll need some worsted weight yarn (the pattern recommends using something like Vanna's Choice), a size "I" crochet hook, a tapestry needle, measuring tape, a pair of scissors, and whatever you want to use to embellish them (if anything). These would make a great stocking stuffer, or favors (for bridesmaids, for example), or to accompany the gift of a new pair of boots. They're the perfect small accessory that completes an outfit.
Want to add these to your wardrobe? You can find the free pattern by Jenny Dickens on Ravelry.