Autumn Chill Scarf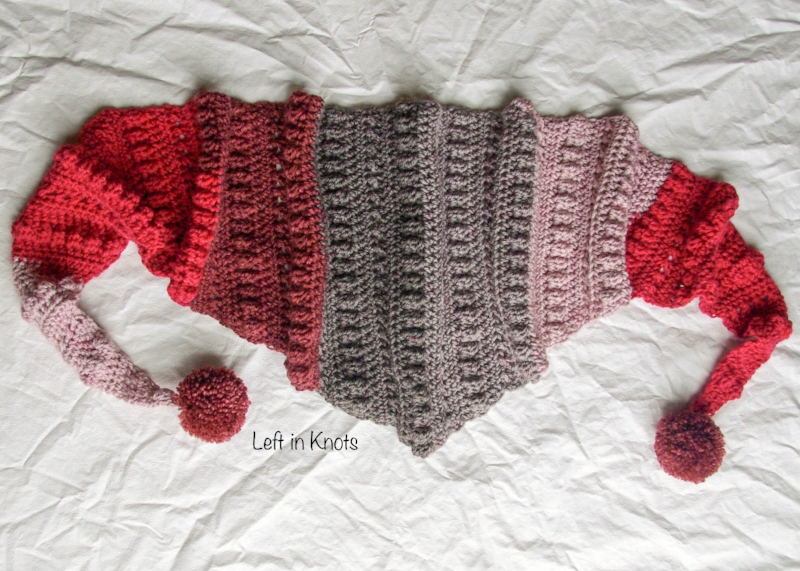 Everybody knows that more than likely, your first crochet project will be a scarf. It's practical, simple, and shows off your new skill. However, after a half dozen plain crocheted scarves, you're probably ready to try something new — something bold, something daring, but not difficult enough to make you throw it at the wall in disgust.
Enter the Puffs Mod Scarf from Left In Knots, the coolest, coziest scarf I've ever seen. I'm sure the colors have something to do with it, but even if you chose different colors, the stitches look so modern, so fresh, so unique, that peoples' heads will turn and you'll get asked where you bought this scarf. Imagine everyone's surprise when you confess that you didn't buy it — you made it yourself!
To make this gorgeous knockout of a scarf, you'll need one skein of Lion Brand Scarfie Yarn — unless you want to do tassels or pom poms. If you want to add them (and I do recommend adding the tassel for even more pizzazz), you'll need a little bit more than one skein. You'll also need a size "I" crochet hook, scissors, and a tapestry needle. If you're feeling fancy you can use a pom pom maker or tassel maker, or you can make them by hand yourself (I tend to forego the makers and just make tassels with the help of some cardboard).
One of the best things about this scarf, apart from its dazzling looks, is that there are very few crochet stitches you'll need to know in order to make your own version: chain (ch), half double crochet (hdc), half double crochet 2 together (hdc2tog) and a special puff stitch. That's it! Some very simple stitches, easy enough for a beginner to learn. The puff stitch is incredibly simple. All you need to do is yarn over (yo) 5 times in the same stitch, which means you'll have 11 loops on your hook. Then you simply yarn over and draw one loop through all 11 stitches. Easy, right?
If you want to check your gauge, crochet 11 stitches for 8 rows in half double crochet. It should measure four inches. The end result is a 52″ (without tassels) long, 13″ wide (at the widest point) scarf that is sure to stun your friends, family, and the strangers you pass while running errands.
If you enjoy this pattern, there are several other modern scarf crochet patterns for free besides the Puffs Mod Scarf on the Left In Knots site. There's even a special time of year, the "Seven Days of Scarfie" which is when the Lion Brand Scarfie yarn is put through its paces to determine just how versatile it is in a variety of projects. There are a few other scarf patterns I'd recommend after trying this one, including the Snow Drops and Autumn Chill scarves (both of which have links on the Puffs Mod pattern page). All the patterns are free, but if you'd like to forego the ads and support an independent artist, you can purchase an ad-free PDF pattern for a minimal fee. You can also follow Left In Knots on Facebook and Instagram.