Harry Potter Scarf Keychain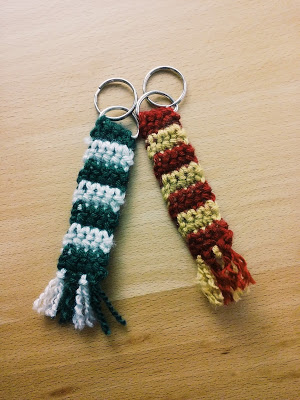 Do you remember where you were when you read the first Harry Potter book? When you got sorted by the Sorting Hat? How you felt about belonging to either Gryffindor, Ravenclaw, Slytherin, or Hufflepuff? After the books were read, we watched the films, some of us might have been lucky enough to visit the Wizarding World, and there are still several of us who have debates, play the video games, and make fan art inspired by Harry Potter.
I was older by the time I read the series, and five of the films had already come out. I remember getting sorted into Hufflepuff and feeling surprise and delight that I was in such a warm, welcoming House. Black and Gold are the colors for Hufflepuff, and a badger is their emblem — a fierce, loyal, tough creature with plenty of backbone.
I've got several Hufflepuff t-shirts, a Harry Potter bracelet, a wand, and various items that show my House pride. But I don't have this adorable keychain scarf, so that's next on my craft list. It's a simple crochet (using only two stitches, chain and single crochet), takes a few minutes, and at the end, you have a 4 inch scarf adorning your keychain that you can show off to friends. You might even be tasked with making some for the other houses!
To make your own House scarf, you'll need the following materials: a 5mm crochet hook, yarn in your House colors (there's a chart that comes with the pattern so you know which two colors to get — this is a great stash-busting project as you can use up bits of yarn that are too small to be included in bigger crochet tasks), scissors, a tapestry needle, a "D" ring (size 3/4″) and a 1″ key ring.
After you've amassed the list of items, you'll crochet using the "D" ring as an anchor. This is a superb project for someone who wants to learn how to crochet with multiple colors without having to commit to a larger pattern. It's a little tricky to get the hang of, but once you figure it out it's fun and works up quickly. After you're done with the main part of the scarf, you can add tassels if you wish. The tassels, since they are small, aren't that difficult and I'd recommend adding them because it makes the scarf a bit fancier. After that, all you need to do is slip the "D" ring onto the keychain. Voila! A House scarf to show off to friends and family! These would make great gifts for the Potterheads in your life, whether they're your friends, family members, or co-workers.
Does this Potter project sound like something you'd love to try? You can find the free pattern, along with an illustrative photo and a YouTube video of a Slytherin scarf keychain on Chaotic Desk. Also, if you loved the Fantastic Beasts and Where To Find Them film and are looking forward to the newest addition to the Potterverse, Chaotic Desk has a free pattern for a Newt Scamander scarf keychain as well. I'd recommend bookmarking the site because there are several nerdy patterns available.