Owl Super Scarf Complete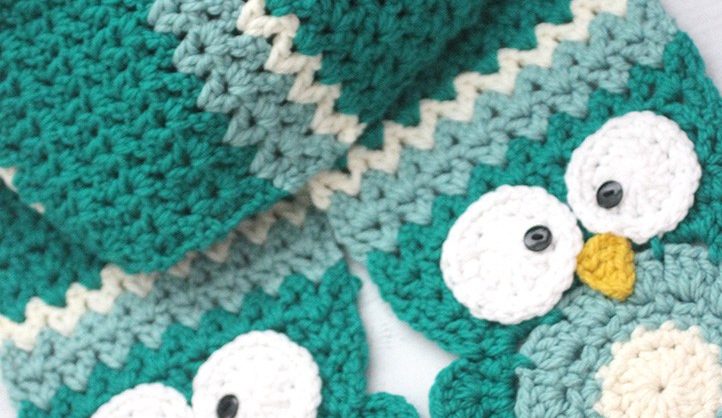 When "super scarves" started becoming a thing I got excited. There's nothing cozier than a huge scarf that you can wrap half your body in while running errands or playing outside in the snow. What makes these scarves even better is when they include animals in the design, and I don't think there has been a more popular animal in the last couple decades than the owl. Whether it's due to the Harry Potter series, the Pinterest hipsters, or propaganda from the owl community itself, I'm thrilled that people continue to incorporate these wise birds into wearable designs.
While some of us may glance longingly at the complicated patterns we've found on Pinterest, the free pattern from Repeat Crafter Me is great for those of us who aren't quite comfortable with the "advanced" label but have progressed beyond "beginner". So if you're in the intermediate area of crochet, like myself, this should be easy enough that you don't feel overwhelmed, but challenging enough that you feel really proud of yourself once it's done!
In order to make your own Crochet Owl Super Scarf, you'll need 9-10 skeins of yarn (the pattern suggests using Bernat Softee Chunky in a variety of colors). If you want to go subtle you can use shades of the same color, but if you want to go bold, I highly recommend using the suggested colors or at least choosing a bright color for the body of the scarf.
Apart from crochet you'll also be sewing the two sides of the scarf together and making pom-poms for the owls' feet. If you haven't made pom-poms, there is a handy video tutorial available on the pattern page. For the crochet sections, you'll need to know the following stitches: Magic Ring, chain (ch), single crochet (sc), double crochet (dc), slip stitch (sl st), chain space (ch sp), half double crochet (hdc), and v-stitch. You'll also need to know the mattress stitch to use when sewing the owl together and joining the scarf halves.
If you are unfamiliar with the mattress stitch, or need some reminders about various stitches, YouTube and Pinterest are super helpful in this regard. Just remember to save the pins you used so you can reference them later for other projects.
Once you're done with the owl scarf, be sure and show it off! It makes a fabulous gift for an owl-lover in your life, whether they're a parent, grandparent, kid, cousin, or sibling (or yourself). If you end up using this pattern, Repeat Crafter Me wants to see it — tag @RepeatCrafterMe and @Yarnspirations in your Facebook, Instagram, and Pinterest posts.
Are super scarves your new thing? Then you'll definitely want to check out the Super Scarf Guide, which has new free patterns, tutorials, and more(Check back here soon because we'll be posting about a bunch of free animal super scarf crochet patterns to make and share). You can sign up for access on the Repeat Crafter Me site. First things first, though. You can find the free pattern for this Owl Super Scarf, along with plenty of photos and a video tutorial on the Repeat Crafter Me site. You can also share it and print out the pattern using the links at the bottom of the page.