Car Seat Cloak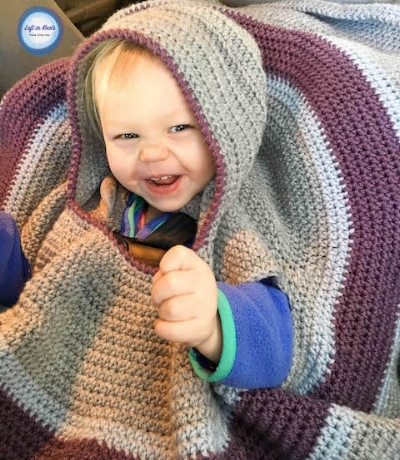 If you live anywhere near cold weather, you know the unpleasant feeling of slipping into a cold seat. No matter how many layers you have on, your back gets chilly, your legs get clammy, and your whole body tenses at the cold. Little children may not realize how cold they are, but the rest of us are very aware of just how much heat we're losing. Luckily, at least for the kids, there's another option — the car seat cloak (though you may want to adapt this pattern and make one for yourself). Sure, it's one more layer, but it's a thick, cozy, layer that will protect your little ones from the chill while you wait for the car to warm up.
The Car Seat Cloak is a free crochet pattern that you can save to your queues on Ravelry and Pinterest, but there is also an ad-free version available for $2.00 (USD). You can also follow Left In Knots on her website, Facebook page, Pinterest, and Instagram. If you love free crochet patterns, then you should definitely add her links to your bookmarks. You can also sign up to receive her free newsletter if you'd rather get free patterns sent to your inbox.
What's so nice about the cloak is that it can be used with a toddler-size carseat. Toddlers aren't supposed to wear thick jackets in car seats because of safety hazards, which leaves these little ones cold in the wintertime. With the car seat cloak, you can slip it over them and the car seat and avoid getting the chills. (Of course, you could buy a car seat cloak, but where the fun in that when you can customize it with your child's favorite colors?) This reminds me of my friend's lovely car seat cloak, it, unfortunately, got ruined because of a car accident she recently had. Thankfully she had road risk insurance, that extra cover really helped her get through her tragic event. But I digress.
To make your own car seat cloak, you'll need eight skeins of yarn (the pattern suggests using something like Vanna's Choice), a size "H" crochet hook, scissors, and a tapestry needle. If you want to follow the pattern exactly you'll need six skeins of yarn in one color and one in each of the other two colors, but of course you can mix it up and do an ombre, chevron, or one color cloak as well.
This pattern is excellent for beginner crocheters, as the only stitches required are the magic ring, chain (ch), single crochet (sc), half double crochet (hdc), slip stitch (sl st), and reverse single crochet (rsc) — also known as the crab stitch. If you're concerned about the gauge, you can check it by crocheting 14 half double crochet stitches for 10 rows and then measuring it — it should equal about 4 square inches.
If you want to make these to sell, you can do so but you must link back to the original pattern and give credit to the designer. Is this something your little one needs to keep warm in the winter? Or do you want to make one for yourself (there are notes on how to do this in the pattern)? You can find the original free crochet pattern with video links to tutorials (for the magic ring, for instance), as well as a link to the PDF for sale, at Left In Knots.