DIY Birdhouse … or Bird Trailer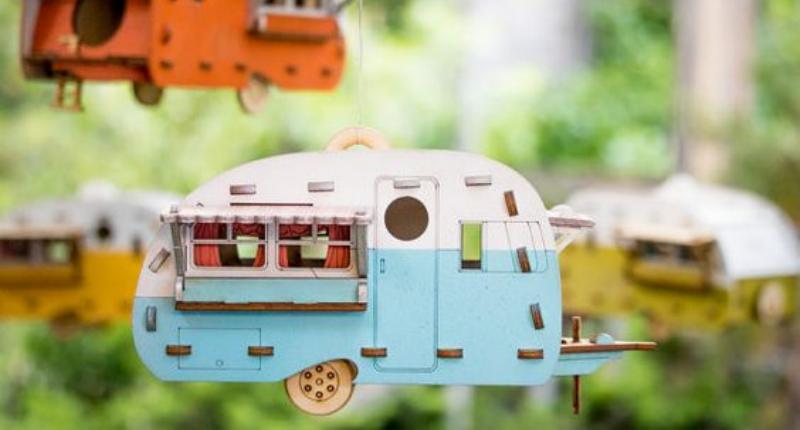 My family loves birds. My grandma and grandpa live in the hills between North and South Carolina, and when I call I always ask my grandparents what birds have been around. They usually have chickadees, wrens, cardinals, and tufted titmouses (which happen to be my favorite). My dad loves hummingbirds and has several feeders on the front porch. There's a feeder out back for the less exotic birds, and we keep an eye on it to make sure the squirrels aren't hogging it. My in-laws have several houses and feeders, as well as stands for the birds they care for, even going so far as to avoid the corner of the porch where a wren nested for a couple seasons and had a batch or two of babies. I also have several friends that love birds, and we've spotted several beautiful varieties while traveling.
With so many bird lovers around me, I'm surprised that I've never built a birdhouse for one of them. I painted a birdhouse once at camp, but other than that I haven't spent any time working on that particular craft. However, this little project just might change my mind. What's cuter than a vintage-inspired birdhouse? This specific one is modeled after 40's and 50's campers, which has become very popular in the last several years. And what's not to love? It's a fun shape, it's two tone with happy, bright colors, and the details make it pop.
Even if you don't have the woodworking tools to cut your own pieces for this trailer, or you don't have access to sheets of aluminum, or recycled materials, there are options if you still want this birdhouse for your backyard or a shelf in your home or the front porch. Of course, you can purchase the trailer already made, but sometimes it's more fun to put it together yourself, especially if it's going to be something an animal lives inside.
Of course, if you have the woodworking know-how, all you need to do is create a blueprint and choose the wood you want to work with. You can go to a craft store and pick up some balsa wood, or you can try some pine or other soft wood. With some heavy-duty tools, you should be able to create the pieces in an afternoon. After that, you'll need to attach them to each other with a strong glue, and then you can decide whether you want to varnish the outside or paint it. If you're going to keep it inside, you could use something like chalkboard paint and decorate it with doodles and quotes. You can also put it on a stand and wrap it in Christmas lights. You can also hang it on a rafter, or put it out on the front porch, or you can use it as the base of another project, like a centerpiece for the table.
If this sounds like something right up your alley, you can make your own after looking at the inspiration below. If you'd rather buy one pre-made, you can find them on Etsy. Or, you can buy a kit and put it together yourself. There's one available for purchase on Bird Folk Collective.