Crochet Purse Patterns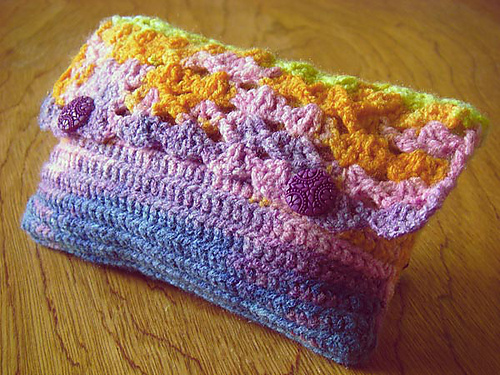 Have you ever found the perfect outfit – coordinating skirt and blouse, or dress and shoes, but had no purse to go with it? Either one was too big, one was too small, it wasn't quite the right shade, or you just felt like you needed something a little extra special? We have the perfect solution: crochet your own purse with this free pattern from Lion Brand Yarns! With this pattern, you can customize to your heart's content – the length, width, color, shape, stitch, and accessories like the little button (you could also do a clasp, a tie, or leave it as is if you prefer).
While some crochet purses are made with bulky yarn and are fit only for day-to-day or errand running, this purse is different because it uses Aran weight (8 wpi) yarn (the pattern recommends using Lion Brand's Cotton-Ease), which makes it delicate and light without being too flimsy. It's pretty, unique, and still hardy enough to withstand several nights out. As a bonus, since it's cotton, it's easy to wash. Simply toss it in a delicates garment bag and run it through a cycle. You can even dry it and it won't felt like wool.
The color is up to you, of course, but there are several options to consider, such as patterns (like houndstooth, stripes, chevron, or even embroidery after the purse is complete), color combinations (you could make a purse for each season and utilize common colors from each, or you could make a holiday purse, or try making a purse in pastels, primary colors, or even ombre — just make sure that you know how to connect the yarns without it being obvious in the finished project).
You'll need a couple skeins of yarn, a size 4mm crochet hook, scissors, and a tapestry needle to complete this project. And don't worry – this pattern is labeled "Easy" so even if you're a beginner, you'll be able to complete this cute purse. It's worked flat, mostly in single crochet – the flap is made of a crochet lace stitch, and it's all one piece, though there is the option to add a strap if you so desire. (You could also add a keychain to the side, or ribbon through the front of the purse, or a tassle on the side)
If it isn't fancy enough for your evening out, there's an even more sophisticated pattern using Vanna's Glamour called the "Evening Glitter Clutch". You can find it here at the Lion Brand site. You will need to create an account with them to view the free patterns, but it's worth it – there are plenty of free patterns being uploaded for all levels of crochet ability, and every kind of project desired.
If this sounds like a craft project you'd love to get your hands on, you can find the free pattern link on Ravelry – don't forget to sign up for a free account at Lion Brand, and if you finish up a purse and want to show it off, there's a part of the site where users can upload their completed projects.