Knitted Hanging Kitchen Towels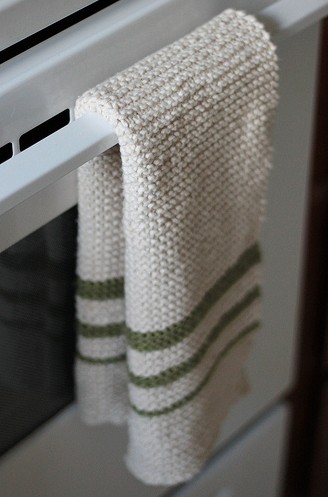 I don't know about you, but I can never find kitchen towels I actually like – they're either cheap, poor quality, or don't fit with the rest of my kitchen. I've searched high and low for a quality, mid-price range kitchen towel and have come out empty-handed time and again. That's where crafting can come in handy. If you can't find the item you want, you figure out how to make it for yourself – and then if you're a bit of an entrepreneur, you start selling them to other people who have been looking for the same thing.
If you've also been looking for just the right kitchen towels, we've found these easily customized, knitted dish towel patterns that you can try. You can make them in plain colors (all neutrals, or bold colors, royal colors, or natural if you so desire), stripes, plaids, or houndstooth. You could even embroider on them afterwards if you wanted to have them monogrammed or put a simple icon on them that ties into your kitchen's theme and decor (farmyard animals, fruits, vegetables, birds, and butterflies are all excellent choices).
To make these dish towels, you will need to gather the following materials: about one and a half skeins of cotton yarn (one of the patterns recommends using Sugar and Cream, while the other suggests dish cotton and acrylic yarn), knitting needles (size 7 is listed in one of the patterns, but as long as your gauge creates a tight knit, you're free to use whatever size needle you want), scissors, a needle and thread (make sure the color at least corresponds or complements the yarn color(s) being used), and a button.
You'll also need to know how to knit and purl, which are the basic knitting stitches – if you've never knitted anything before, there are plenty of YouTube video tutorials that will walk you through the steps. You will also need to know the stockinette stitch, garter stitch, slip, knit on the wrong side, and finally, how to decrease. Again, a walkthrough tutorial of these stitches can be found many places online, but the best place to see this done is YouTube – unless there's a knitting website you prefer.
While this may take a little longer than the average shorter project, say, a scarf, this dish towel will be around for a long time, making it well worth the effort to create. As they are made from cotton, they can be easily washed, tossed in the washer and then dryer without fear of being shrunk or felted (this is why you should not use wool for projects unless you have a specific reason for doing so, such as making a felted bag or hat).
Would you like to try out these beautiful dish towels and see them accent your kitchen? You can find both patterns for free from either Knitting Paradise or A Wooden Nest – Knitting Paradise is a crochet and knitting forum where you can ask questions and post patterns, so you may want to join if you enjoyed this project. You can search through A Wooden Nest's tags for other free patterns as well.