Crochet a Tawashi Scrubber with Crochet Scraps, and Clean the House (Free Pattern)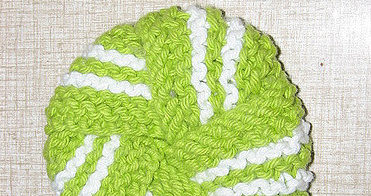 Do you ever get the feeling that you're repeating the same pattern with your days, over and over, never doing anything new? While household chores seem to be one of those things that make us feel like we're in the film Groundhog Day, it's helpful to think of it as less of a circle and more like a spiral. There are tiny differences each time, depending on what happened previously – cleaning up after a party is different than cleaning up after a quiet dinner party or an evening of babysitting kids.
Sometimes it helps to also bring in something new to the loop. Like this Tawashi Scrubber, which uses crochet scraps to become one of the most handy, practical, and colorful items in your house cleaning kit. What can I say? Cleaning is more fun with colors. Of course, you could go all out and belt out some Disney tunes while you scrub with your rainbow Tawashi and pretend that you're Cinderella, but maybe that's just me.
If you want to make one of these for yourself (or a couple dozen to keep around the house – I wouldn't necessarily recommend this as a gift for friends or family as they make take it the wrong way so unless they ask for one, maybe keep these for yourself), you'll need the following materials: worsted weight yarn (the pattern recommends acrylic for a stronger scrub, but if this is going to be used as a shower scrub, you may want to switch to cotton as it works better for sensitive skin), knitting needles (size 7 or 8), and scissors. You'll need to know how to knit and purl, and whether or not you use a contrast color is up to you, though of course it is fun to experiment with various colors or even a variegated yarn.
If you'd rather crochet the scrubber, you'll need worsted weight acrylic yarn and a size "H" crochet hook. You'll need to know how to chain (ch), single crochet (sc), back loop only (blo), and crochet two together (2tog) as well, though of course these stitches will be familiar to most crocheters. A note on the crochet pattern says that there is a bit of construction to do after completing the crochet part, and involves weaving the ends in and out until you can pull everything tightly together and knot it to resemble the photo. This isn't too difficult and should only take a few tries.
Want to add a few of these cuties to your cleaning kit? You can find the knitting pattern from Shh, I'm Counting! on their Ravelry page, where the pattern is available as a free download. If you like this pattern you might want to check out the others posted. If you'd rather crochet yourself a scrub, you fan find it at the Crochet Patterns Only blog, which provides both a written tutorial and a video tutorial (the link sends you to YouTube). If you like that one, there are a few blog links on the side to other free patterns which you can check out.