Chunky Rugs, You Can Make These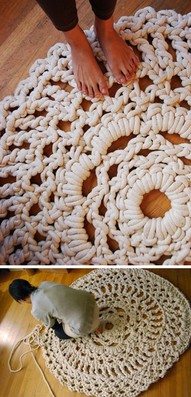 It's always the most beautiful handmade items that you can't find a pattern for – no matter how long you comb through the internet, weed through Pinterest photos or how many craft sites you sign up for, there's always that one item that eludes you. Until today, that is – if you've been dreaming of making your own rugs and mats, you might have seen this crochet doily rug in your search. Luckily for you, someone took the photos as inspiration, created their own version, and wrote it down so the rest of us could follow suit.
Always Rooney's beautiful doily rug is made using hand crochet, a technique that makes big projects less formidable, as it conserves both time and effort. The rug is constructed from cotton piping, which is cheap (Courtney on Always Rooney purchased hers for 37 cents a yard) and hardy material for a comfortable yet elegant rug.
While the pattern does begin with a hook, once the first circle is complete, the hand crochet begins and from there it takes about four hours from start to finish. If you like the idea but don't love the pattern, this one would be easy to alter as it is basically a giant doily. Find a small doily you like and use the piping and hand crochet instead of a hook and yarn and you'll have your own variation on the rug in no time.
For this pattern, however, you'll only need to know the following stitches: chain (ch), slip stitch (sl st), double crochet (dc), single crochet (sc), skip (sk), and treble crochet (tr). There are only ten rounds to the rug, but if you're wanting a smaller or larger size, it's a cinch to leave off a row or add on a few more. You might want to measure the space you plan on occupying with the rug before you begin to ensure the right fit.
If you haven't tried a hand crochet project before this, there are plenty of options for tutorials available on YouTube. You can, of course, jump right in and craft this rug, but if you prefer to start small, you can hand crochet a scarf before you commit to something larger.
This rug would look adorable in a bedroom, guest bedroom, living room, sunroom, or even on a porch. You could try it in any number of different colors (spring or fall colors, holiday colors, stripes, or variegated would all make for an interesting rug), shapes, and sizes. You could even use this (in a smaller size) as a tabletop decoration, a wall hanging, or a couch throw. And with how easy it is to make, you could always add to your collection as you find different shades and uses. Of course, with how beautifully it turns out, you might be asked to make some of these for friends and family.
Ready to make your own living room rug? Head over to Always Rooney to get started. You might want to check out other areas of the site too, such as the personalized leather goods store or the digital print shop for ideas, inspiration, or even a little shopping spree.