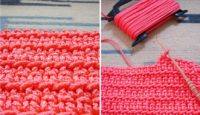 Want a fun, easy, but practical crochet project for the next item in your crafting queue? Look no further than this Nylon Rope Crochet Outdoor Rug. Aesthetic Outburst's hot pink rug will wear well in the summer, and is hardy enough to even withstand a few winters. Of course, you don't have to make your own rug hot pink, but wouldn't a bright color put some pep in your step?
Whatever color you choose, you'll also need to find some scissors that will cut through the rope (be careful and gentle, especially on the first try. You don't want any pinched fingers!), as well as a crochet hook that will allow you to crochet without being too unwieldy. You might have to try out a few different sizes before finding the right one, but it shouldn't take more than few minutes to locate the exact size that will make this project a breeze. Remember, the bigger the nylon rope and hook, the shorter the completion time.
You can add in whatever fancy stitches you like, but if you'd rather just whip it up quick, you need use nothing more than a single crochet (sc). Just make sure the stitches are somewhat tight so the rug retains its shape. You can, of course, also elaborate and create variations on this rug, using other materials (if you want an inside rug, how about using t-shirt yarn? Or you could try nylon cord, plastic, or jute), as well as different colors and patterns. This rug was made for tailoring and tinkering, giving you enough options to create several outdoor rugs and mats for all your outside activities.
Fancy giving this pattern a go? Collect your sturdy, bright colored rope and an appropriately sized crochet hook and get going! You might want to take a peek at Aesthetic Outburst before you begin. If you'd rather have a look at a more rigid pattern, try looking through Craft Gawker and see what you can come up with – there's bound to be a rug shape and size that fits your needs.
15108 total views, 2 today